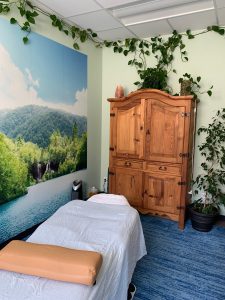 Testimonial: I highly recommend Bethany Bachmann as a craniosacral therapist! Her expansive knowledge of Biodynamic Craniosacral Therapy as well as many other somatic practices is evident during her sessions as well as in conversations. She has a gentle yet powerful touch and easily makes an energetic connection. I appreciate her openness to explore my experiences and interests. I always leave my sessions deeply relaxed and renewed.
– Kim Siemers, OTR/L, Continuum Movement Teacher, Second Degree NIA Black Belt Instructor
Contact Bethany:
Please call, text or email to schedule an appointment at:
970-946-9573
bethany@bethanybachmanntherapy.com
Office Hours:
By Appointment Only:
Saturdays: 10:00 – 4:00
Sundays: 10:00 – 4:00
Special Note: At the present moment, in-person sessions are for COVID-19 vaccinated clients only. Online CST sessions are available.
Location:
100 Jenkins Ranch Rd., Suite D, Durango, CO 81301
Office Policies:
Payment: Payment is expected at the time of service. Cash, check, and credit card are accepted.
Lateness: Your appointment may have to be shortened as a courtesy to the practitioner and other clients if you arrive late. Full payment for the scheduled session is still expected even if the session is shortened due to lateness. If you are more than 15 minutes late without calling ahead, your appointment is considered cancelled.
Covid-19 Safety & Precautionary Policy for Clients & Practitioner:
Bethany Bachmann is fully vaccinated.
Bethany Bachmann LLC has adapted its procedures to follow all CDC and local health organizations guidelines and best practices for maintaining the safety of therapist and client.
Our office maintains Covid-19 precautions including cleaning and air purification protocols.
Please DO NOT come in if you are feeling unwell or someone in your household is ill. This is the most important thing you can do to protect me and others.
Thank you.